San Francisco and Georgia have sent America a message. It's time for Washington to pay attention.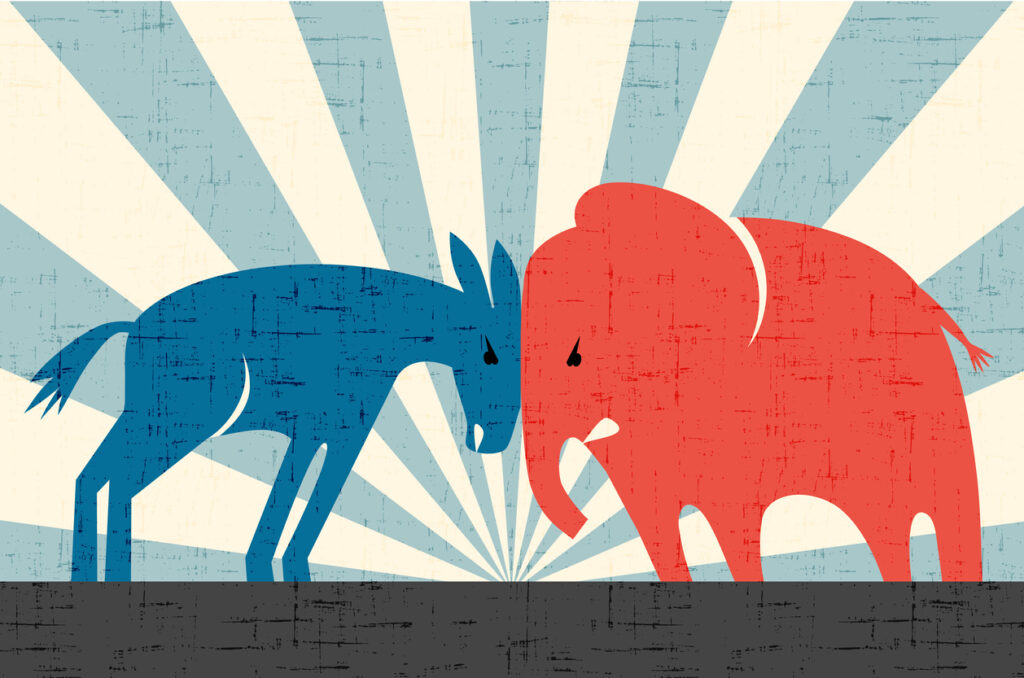 For years, pundits have been beating drums designed to tell us that the woke left and Trumpian right are irreversibly ascendant in American politics. Perhaps it's time to reconsider. Just recently, responding to a spike in street crime, voters in San Francisco overwhelmingly recalled one of America's most progressive district attorneys. And despite cajoling from Donald Trump, Georgia Republicans stood by a Republican who wholeheartedly rejected the Big Lie. These results suggest that, for all we've heard about polarization, the nation's exhausted majority is poised to strike back. And not a moment too soon.
We should be clear about the terms of these recent contests. Chesa Boudin, our San Francisco District Attorney, was so focused on "reforming" the criminal justice system that he failed to ensure residents felt safe in their city. Certain areas became open-air drug markets. Mass theft in drug stores become so commonplace that some chains simply shuttered their stores. As a result, Chesa Boudin lost by more than 10 points. On the flip side, Georgia's Gov. Brian Kemp had maintained a solidly conservative record but refused to intervene in the 2020 contest to pretend Trump won his state. When former Sen. David Purdue challenged him from the right, Kemp not only prevailed, he did so by more than 50 points.
The point here is not that the battle to steal the nation's politics away from the extremes is over — the battle is undeniably in full form. It's to point out that the conventional wisdom that politics is irretrievably destined to devolve into never-ending brinksmanship between flamethrowers on the left and headhunters on the right is dead wrong. That said, our political system still works explicitly to the advantage of those on the ideological extremes. Combined, the explosion of ideologically driven "small dollar" donations, tied to the rise of social media, whipped up by ratings-driven cable networks, and set against a world of demographic self-sorting has created a system where all the incentives — money, attention, committee assignments — point ambitious leaders to the extremes.
There's just one thing standing in the way of an outright war of attrition: The American people. To a degree that has too often gone unremarked, these latest races illustrate that an exhausted majority of voters, most of whom want the parties to work collaboratively, prefer candidates who eschew the extremes. In short, those resisting the sirens on the left and right are winning more than their fair share of contests. And that suggests the dispiriting narrative that democracy is doomed is misconstruing the underlying reality.
Take the Republicans first: It's not just that Purdue lost to Kemp. Trump-backed gubernatorial candidate Charles Herbster lost in Nebraska while Janice McGeachin came up short in Idaho. Rep. Madison Cawthorn was sent packing from his House seat. At the same time, Problem Solver Caucus Co-chair Brian Fitzpatrick of Pennsylvania and Rep. Don Bacon of Nebraska won primaries to stay in office. To be sure, Trump acolytes won in other places. But these victories suggest that principled conservatism is making a comeback.
A similar dynamic is playing out on the left. It's not just that Chesa Boudin lost. India Walton, despite winning a primary to carry the Democratic banner in Buffalo's mayoral race, lost to a write-in moderate. Don Davis beat Erica Smith in one open seat in North Carolina, and Valerie Foushee beat Nida Allam in another. In short, the prevailing narrative in Washington, where pundits and consultants perpetually advise candidates to court the extremes, misses the moment and makes things worse.
But this can't just be blamed on the media. The truth is that our leaders too often fail us after the political season ends. Candidates who have promised to work constructively across the aisle are sucked into the vortex of vitriol once they arrive in the office. And that's clearest on the road to the White House. In each of the last two presidential elections, the winning ticket promised to steer Washington away from the braindead politics of left vs. right. But once in office, both leaders tacked the other way, with Trump embracing more strident populism, and Biden unwilling or unable to deliver on his promise to bring Democrats and Republicans together.
It's time for us to take stock of what's really happening. The exhausted majority of voters disgusted by the hard left and right are beginning to make their voices heard. They're refusing to give way to the forces pulling our leaders apart. There will be moments in the coming months when wokism and Trumpism prevail. But that's shouldn't define our understanding of present reality. Americans want to move not left, not right, but forward. The fever is beginning to break.